Surgeons David Lieberman and Sachin Parikh make Silicon Valley Zoom-ready
Drs. David Lieberman And Sachin Parikh run L&P Aesthetics, a medical spa, clinic, and surgical center in downtown Palo Alto. They also run together before work, typically completing the 4-mile loop at the Stanford Dish. To say they're in step isn't just a figure of speech—they've been in sync with their aesthetics and values since they were residents at Stanford Medical Center in the mid-2000s and for the decade they've been in practice together since 2011.
Drs. David Lieberman and Sachin Parikh
Dr. David Lieberman with a microtia patient
As the tech set's go-to even before the pandemic hit, their business has spiked, thanks to the proliferation of work-from-home Zoom meetings. Patients seek the removal of frown lines, sagging jowls, and hooded eyelids magnified by computer cameras. Additionally, on-the-go executives now have more time to recover in private while working at home. Looking younger than one's age is a key to remaining relevant in Silicon Valley, dominated by workers in their twenties and thirties.
"The lighting and angle at which you're looking at yourself highlights certain components of facial aging that you don't necessarily see when you're outdoors and catch your reflection in a building window," says Lieberman. "If you're staring down at your camera, you notice changes, especially with face and neck laxity. We've always been busy with face-lift and neck-lift surgery, but that's been one of the big focuses in the pandemic for us."
Before and after: rhinoplasty and fat transfer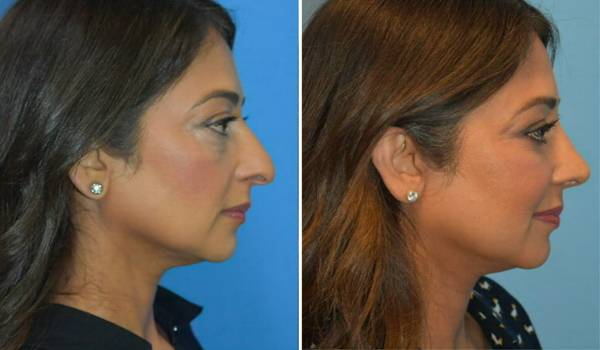 Before and after: rhinoplasty and fat transfer side profile
The lighting and angle at which you're looking at yourself highlights certain components of facial aging that you don't necessarily see when you're outdoors and catch your reflection in a building window." – David Lieberma
Before and after: rhinoplasty
Before and after: L&P Signature face-lift and neck-lift
To look 10 years younger on Zoom, here's what's on the L&P Aesthetics list: the L&P Signature Deep Plane face-lift and neck-lift to lift up muscle groups that sag under the skin (roughly $25,000); an eye-lift for youthful openness (about $12,000 for upper and lower lids); TRL laser resurfacing treatments to brighten and smooth the skin (anywhere from $6,500 to $7,500); a lip-lift targeting the upper lip to give fullness and a heart-shaped pout (on average, $7,000); and hair transplants for balding men (on average, $12,000), because ring lights used for Zoom meetings bounce off the scalp and makes hair look thinner that it really is. Rhinoplasties (nose jobs) are also up not because of Zoom, but because patients have more time for at-home recovery, the doctors report. Actual prices will vary. Lieberman, a Boston native, and Parikh, the Miami-born son of Indian immigrants, were both interested in science in their youth and found a higher calling in medicine. Along with cosmetic procedures, they also perform reconstructive surgery for skin cancer patients. For the past decade, Lieberman has volunteered his surgical skills with HUGS Foundation Inc., a nonprofit that helps children in Guatemala, Ecuador, and Vietnam with microtia, a birth defect causing underdeveloped ears. Once the pandemic lifts, Parikh will join him in that cause.Cosmetic plastic surgery, both doctors agree, is satisfying for both surgeon and patient for its ability to yield clients an important lift. "The more highlights you create in the beautiful structures of the face like jawline, lips, cheekbones and deemphasize aging signs of the face like jowling, neck laxity, lower eyelid bags the more confident people feel," says Parikh. "Especially in the Zoom reflection."
Before and after: L&P Signature face-lift and neck-lift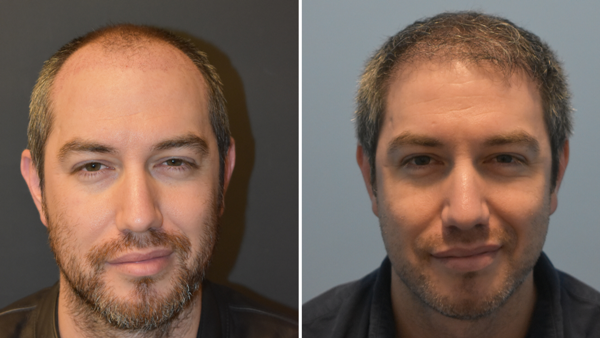 Before and after: hair transplant