As San Francisco restaurants optimistically re-open to outdoor (and indoor!) dining, celebrating Easter becomes a new opportunity to many who have missed the mouthwatering experience of dining in our culinary capitol. What better time to support the local establishments that have been hit hard by the pandemic and are continuing to offer delightful brunch, lunch and dinner options? Here are a few of our favorites to make your weekend complete.
1. French-ify Your Easter at Maison Danel.
With spring comes the reopening of Maison Danel's elegant Tea Salon for Easter (all safety precautions in place, to boot.) Guests can also enjoy the sunny sidewalk or parklet seating outside. Oh, how we've missed the beauty of this special spot and their epic chandelier! To make a reservation for Easter Brunch or Afternoon Tea, call the boutique at 415-685-5900. Current hours are Friday & Saturday 8 a.m. to 4 p.m. and Sunday, Monday and Tuesday from 8 a.m. to 2 p.m.
2. Bring Some "Bunny" a Basket.
Finally leaving your apartment to visit a friend (or friends) for the holiday? Take an Easter Basket featuring delightful treats all made à la maison. Mason Danel has crafted each basket with a chocolate egg with small chocolate ganache eggs inside, a chocolate bunny rabbit, chocolate mendiants (nuts and dried fruits), a bag of Maison Danel's famous Tuiles Amandes (Almond Tile Butter Biscuits), and a half bottle of sparkling Maison Danel's own Crémant d'Alsace. Baskets are $65 each and are available for Takeout, Pickup, and Delivery from April 1 to April 26.
3. Open A Vault of Flavor at Vault Garden.
Celebrating Easter Sunday with a special outdoor brunch for you and your family at the new Vault Garden (555 California Street) will include Chef Jason Halverson's delightful 3-course prix-fixe brunch options. Savory shareables, entree options, and desserts for the table will be enjoyed. Prepaid reservation for parties of two to six people are available on Open Table for $49 per person, $25 per child. The menu includes Easter favorites such as Truffled Deviled Eggs, Crispy Asparagus & Bearnaise Mousse, Hot Smoked Salmon w/Avocado & Dilland Warm Parker House Rolls. A choice of entrees may just be the hardest part of the meal, while vacillating between The Vault Burger, Asparagus & Mushroom Quiche, Ruby Red Shrimp Eggs Benedict or a Roasted Lamb Loin Tartine ($10 Supp). Have no fear however, Carrot Cake Donuts and Lemon Curd & Rhubarb Pavlova await as a delightful ending to share.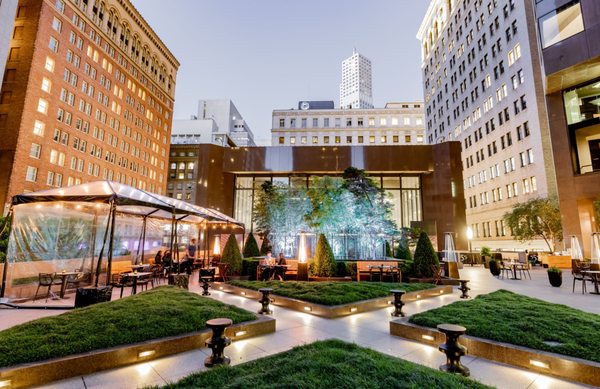 4. Raise the Roof at Charmaine's Lounge.
Charmaine's, the sleek outdoor lounge located atop the Proper Hotel is offering an extra special Easter brunch, which wouldn't really be brunch without the build-your-own Bloody Mary bar including house-made accoutrements and a spread of spring treats (think berry pavlova and a twist on traditional Easter cookies.) Reservations can be found on Open Table. Takeout and delivery are also available.
5. Enjoy Easter Tea, The Proper Way.
The cozy outdoor garden at VILLON is a perfect spot to toast the holiday. A special menu offers grilled lamb, seasonal sides, savory sandwiches, homemade pastas and more, courtesy of Chef Jason Fox. Located in the Proper Hotel (1100 Market Street) on Sunday, April 4, from 1 – 5 p.m., just $75 will include your meal and a welcoming spritz to boost your spirits. Champagne anyone? Just $23 more will get your meal paired with delightful bubbles. Reservations can be made on Open Table.
6. Bring Sweden Home.
Chef Roberth Sundell has created an Easter Takeout Menu to bring Swedish stylings to your table on April 3 and 4 from 4 – 7 p.m. The Easter Menu from Plaj ($180 for two) includes an assortment of Nordic Breads and Whipped Butter, a Swedish Cheeseboard with Huckleberry Jam, Matjes Herring with Dill, Apple and Horseradish Cream, Skagen with avocado and Norwegian Shrimp, and Caraway Smoked Salmon with Mustard sauce as well as Deviled Eggs, Spring Salad, Grilled Lamb from Sonoma and much, much more. Orders can be placed through the Website directly. Please specify time of pick up when ordering.
7. Feeling Lazy? Order Chinese Take Out.
San Francisco's newest Chinese restaurant, Lazy Susan offers online ordering and delivery through Easter Weekend. Of course, you are welcome to come and pick it up at the 208 Fell Street location, though there is no dining on site. A delightfully traditional offering includes beloved, well known items. From Orange Chicken, General Tso's Chicken and Crab Rangoon, to Veggie Pot Stickers, Hot and Sour Soup. Wines are also available for pairing. Hours are 4:45 p.m. – 9:30 p.m.