San Francisco's latest culinary hotspot puts a twist on time-honored Japanese barbecue with omakase yakitori.
THREE WEEKS AGO, I WAS SEATED SHOULDER TO SHOULDER INSIDE ONE OF 60 tiny restaurants crammed into Tokyo's famed Omoide Yokocho. Plumes of white smoke rose above the array of skewers cooking on the grill in front of me. Suddenly, a red-faced partygoer barreled into the impossibly narrow restaurant, scattering carafes of warm sake and plates piled with smoky offal. The server deposited the reveler back on the street, where he staggered off into the lantern-lit alleys of Shinjuku. The chef—wearing a look of concentration visible through the haze of sweet, meat-scented smoke—hardly even took her eyes off the grill.
In a country often known for specialties such as Kobe beef and horse meat sashimi, my first meal in Japan is simply chicken—yakitori, to be specific. The bar snack, salary- man staple, and, here, late-night street fare that was served with the rollicking atmos- phere to match.
BLAZING A TRAIL
Back in San Francisco, I stand next to a spotless glass partition shielding a custom- made robata grill. It's the shining centerpiece of Hina Yakitori, the Bay Area's first omakase yakitori restaurant. Executive chef and co-owner Tommy Cleary and I admire the hand-painted mural along the back wall, depicting what appears to be rocks hur- tling outwards. In fact, if you stand directly in front of the glass-encased grill, it looks as though it's breaking out from the wall. "It looks like a spaceship," Cleary laughs. It was his brother's idea, he says, and explains that the artwork is also a continuation of Hina's former location. There, his brother painted a mural beginning to crack through the wall. Now, at Hina's new shop, it's fully broken out.
It's a fitting analogy. Hina—which means "baby bird" in Japanese—swiftly outgrew its first location, in Oakland, which opened three years ago. In partnership with the Michelin-starred Ju-Ni team, Hina reemerged in San Francisco last September with the skewers that drew scores of loyal fans at the old shop, but with a more refined concept. Here, 13 diners seated around a slate countertop get a taste of authentic Japanese bar- becue in an omakase experience. It's yakitori, elevated.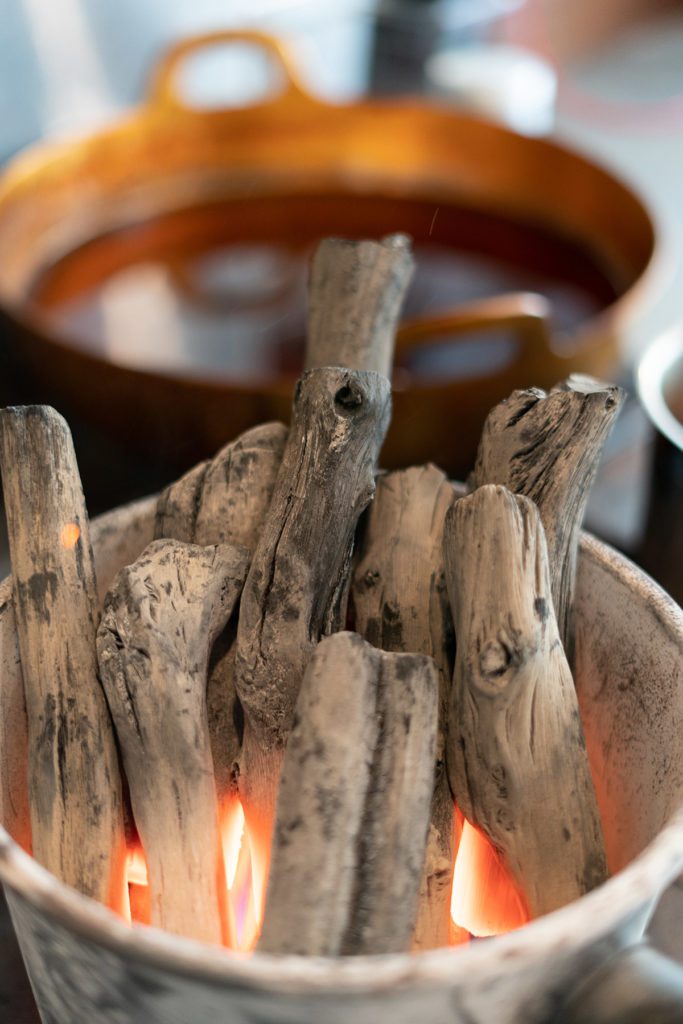 Yakitori is both an art and a science. The word itself simply translates to "grilled chick- en," and the skewered meat is often seasoned with little more than salt and tare (sauce). However, the beauty of this particular form of Japanese barbecue lies not in excess, as it often does in its American counterpart, but in perfecting the preparation and presen- tation of the dish. Despite its ubiquity in Japan, the high-level preparation of yakitori is exacting, demanding both accuracy and precision. If one fine-tunes the process—from the thoughtful sourcing of ingredients to mastering the timing of the grill—yakitori can transcend its humble origins.
TRIAL BY FIRE
On a regular night, chefs Rich Lee (Yardbird Hong Kong, In Situ) and Brian Shin (Alin- ea, Manresa, Benu, In Situ) flank Cleary. As I watch him and his well-oiled team during dinner service one Saturday, Michael Pollan's documentary, Cooked, comes to mind. In it, he reflects on the theory that cooking meat over fire is what kick-started our evolution, what made us human. "To see people whose appreciation of that is undiminished is kind of thrilling," he says. Such is the case here, as I observe Lee fanning the coals with a traditional uchiwa (Japanese fan) while Brian tops a trio of kanpachi with droplets of Japanese chili oil. In the middle, Cleary deftly scans the grill, making subtle adjustments here and there—almost like a DJ adjusting the myriad knobs and switches on a control- ler. It's the Chef Tommy & Co. Show.
It's a secret nod to Cleary's life prior to chefdom. Growing up, he was interested in music, producing several albums and even touring worldwide with a hip-hop legend. Despite his successes, Cleary debated if music was a viable career, taking a job at a family friend's izakaya in the meantime. To get him up to speed, the owner gave him a stack of books showcasing Japanese cuisine and the accompanying methods of Tokyo's top restaurants. As Cleary began studying one particular tome dedicated to the art of yakitori, he gravitated towards the challenging nature of the dish and yearned to perfect it. His quest led him to Tori+Salon, one of the restaurants featured in the book, where he landed an apprenticeship working 15 hours a day, six days a week. He got his foot in the door by offering to work without pay and sold everything he owned, including a collec- tion of more than 10,000 records he had amassed since childhood, to finance his year of yakitori enlightenment abroad.
Cleary was the first American chef to train at the acclaimed restaurant under revered yakitori chef Kazuo Nakayama, where he was put to the test—the culture of overwork was persistent, and trivial slips magnified. He commuted by bike through Japan's notori- ously muggy summers, monsoon season, even snow, including a record-breaking storm that shut down Tokyo's famously infallible trains for days.
ORIGIN & CAUSE
Wisps of smoke curl around the skewers. Below, sticks of charcoal flicker vermilion like tubes of lava. Hina uses a mixture of Wakayama Kishu and Kamitosa binchotan, Japan's highest-grade charcoal, which emits infrared waves that cook the meat while imparting a subtle smokiness. Cleary shows me a box of the silvery-black sticks, clinking against one another with a metallic ring—a tell-tale sign of high-quality binchotan. He tells me it took his team more than a year to convince the maker, living in a rural town in Wakay- ama Prefecture with no mobile phone or computer, to sell it to them. The coal is made by burning off all impurities in ubame oak, of which a majority of the world's supply is grown in Wakayama. The taxing production process leaves behind an essentially odor- less charcoal made of pure carbon. From sustainable harvesting to adjusting burn times for each unique batch, it takes an artisan with instincts developed over time to perfect the process—not unlike yakitori.
Hina sources its free-range chickens from Pasturebird, an innovative farm near Temec- ula Valley. "It's crazy how they do it," says Cleary, describing his tour of the regenerative farming system and mobile range chicken coops, moved every 24 hours so the birds con- stantly graze on fresh pasture. "Probably the best you can get in America, I would say, and I've tried them all." The omakase format at Hina allows Cleary to use the chickens without waste, ensuring each diner receives exactly half a bird. Among the highlights: Sot l'y laisse, the delicate, dark oyster meat served with an Osetra caviar-topped chich- arrón; tsukune, a chicken "meatball" dipped in tare and a golden sphere of yolk; and charred florets of broccolini, the current seasonal vegetable, served on a creamy pat of garlic soy butter and finished with grated karasumi.
Beverage Director Justin Chin (Gary Danko, Ju-Ni) has also curated an impressive menu of sake, shochu, beer, and wine to accompany the dishes, including reserve list selections such as the 2012 Marcassin Pinot Noir, and Trimbach's 2007 Riesling Clos Ste. Hune.
THE HOTSPOT
A friend recently told me he's been setting alarms to try and snag a pair of the 13 coveted spots to witness the Chef Tommy & Co. Show. "On an average night, the wait list is over 100 people. Fridays and Saturdays, 200. It's mind-boggling," says Cleary, pulling up Resy on his phone. "Something that I never expected to do did better than anything I tried [before]. Not that I didn't try to do this, too," he laughs—and I recall the countless challenges he relayed to me over the past two days—"but my dreams were just different growing up."
At the end of Cooked, Pollan reiterates mankind's gift of cooking with fire. "It's this great reaffirmation of our very special place in the cosmos," he muses. It seems we should thank our lucky stars that Hina's custom-designed, binchotan-fueled spaceship landed on our corner of the earth.
Reservations open 45 days in advance. Set your alarms.
www.hinasf.com 808 Divisadero, San Francisco